My copy of the new Niwaki catalogue arrived in the post this week so I thought I'd share it with those of you who have not yet discovered the joys of this company.
The Laplander and Pocket Boy folding saws - both great tools.
And it was whilst looking for the Pocket Boy that I came across the Niwaki site, and fell in love.
What with, I hear you ask? Well I shall tell you - the ethos, the aesthetics, the playfulness, the family values behind the company and, of course, the tools themselves. I know very little about Japanese tools, but from what I have read and seen myself, they are generally excellent quality and I love the fact that a tool that does the same job as a tool I am familiar with and grew up recognising, looks entirely different from the way I would expect them to look. Take these Japanese rip saws, for instance: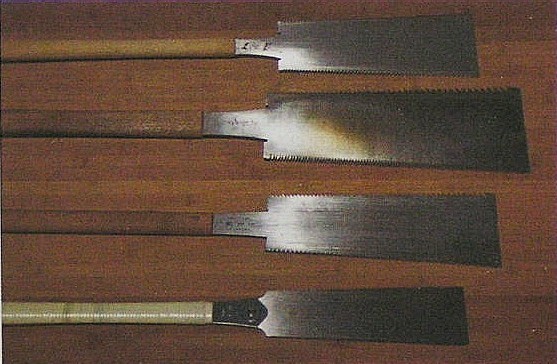 Nothing like a western saw. And it makes me smile to think that somewhere in Japan there is a hobby craftsman, looking at British tools, admiring their foreign lines and thinking exactly the same thing.
Here are a few pages from the Niwaki catalogue.
After browsing the site and imagining myself a landscape gardener for a while, I ordered the catalogue and it has been coming ever since. It's worth a look so go to their site and order your own - it's always nice to get something cool and quality through the post.
A little while later, I read something on line about a traditional Japanese peasant knife called a Higonokami.
Having been fascinated with knives all my life and especially with the knives of the working people, I looked into these very simple but incredibly sharp friction folders, read a little of their history and thought, I have to have one - they are right up there with the classic French Opinel folders
and Algerian Douk-douk knives.
If you are interested in the story of the Higonokami knives, have a look at this article on British Blades:
http://www.britishblades.com/forums/showthread.php?87498-Higonokami-story
I think they are wonderful and the easiest way to get one, I would suggest, is through Niwaki where they begin at £16, while the original Higonokami, made by the last surviving craftsman of the Miki corporation, is only £29 - not a bad price for either since they are laminated blades. Don't get me wrong, they are very basic knives and as suggested in the British Blades article sometimes need a bit of finishing, but I love them and if you love someone who loves knives and tools and whittling, then they will love them too and I think they are a great stocking filler and a pleasant surprise for Christmas morning.
Here is my Higonokami with the very soft leather pouch I made for it - I added
the lanyard too.
Now, anyone who owns a friction folder will know that there is a danger that the blade will fold up on you in use so what I would like to do (one of the many jobs I've been intending to get round to but keep putting off for ages) is to turn a nice handle into which it can then be inserted in the open position, like the classic barrel knife that used to be so popular in this country, but that you now can't get anywhere. Here is one that Julian picked up from a car boot and very kindly donated to my collection.
As it happens, my friend Dave gave me a nice piece of American Walnut this week that just might do the job of a handle for my Higonokami. Watch this space.
By the way, if anyone knows where I can get a douk douk (without first going to France, where incidentally I was unable to get one last year despite looking specifically for one, or Algeria) I'd be thrilled to hear from you.
Scrub that - just looked on line and they sell them on the Heinnie site, here:
http://www.heinnie.com/Knives/Douk-Douk-Knives/Folder-Black/p-92-1140-7990/